When it comes to camping food, you may wonder what to choose.  After all, you're about to go out on an adventure, and many times, you won't have the basic conveniences that you may have otherwise.  Here, you'll learn how to choose the right foods that you can and some great options for you to choose from.
While those camping meals might be the perfect option for you, budget needs to be considered. You may want to save money, and if you don't feel like spending lots of cash on generators and the like, you should consider other options. For example, homemade granola is a great alternative to granola bars, or if you want to, you can dehydrate them at home, so that you're not spending extra money on dehydrated foods.  
Always Consider Nutrition
Hiking is a strenuous activity, and if you're going to be out in the middle of nowhere, you should always make sure you have food that replenishes your nutrients and makes sure you're getting enough calories for your adventure.  When it comes to emergency preparedness, you also need to figure out how you're going to help cater to your needs as well.
Natures Rise, an organic mushrooms powder supplements that guarantee an energy boost.
Many people don' realize how strenuous hiking it, and how many calories you can burn.  Hiking on average burns about 438 calories per hour, and a larger person will burn more. So, if you're hiking even for a couple hours, that's over 1000 calories burned.  If you're out for 6 hours, you need to consume about 2600 calories as well.
The problem is though, when it comes to hiking adventures, many people will just eat junk food. But you shouldn't do that. Protein and complex carbs are important, and if you're hiking and camping, you should always have these. Plus, if you do get stranded out there, you'll have adequate nutrition for your body as well.  
Weight is Important!
One part of emergency preparedness for hiking and camping is choosing freeze dried food that is lightweight and doesn't have a ton of bulk to it, especially if you're backpacking and going on long journeys. You should repackage the foods into resealable bags if you can in order to help minimize the bulk and the garbage.  If you do need cooking instructions, you should make sure to keep those, however.
Don't Bring Cooking Food if there Is no Way to Cook It
If you're going backpacking, there is a chance you may not find dry wood in order to start a fire. This is a major problem because many people don't even realize that they rely on this, only to find out they can't eat the foods that they want to due to the lack of fuel.  Pasta, rice, quinoa and other foods that are starchy are actually not ideal to bring with you, and if possible, avoid bringing foods that aren't going to need extensive cooking.
When cooking, you want something that you can quickly reach and eat.  You don't want to have something that's out of the way or something that will take a long time. If possible, try to bring peanut butter and jelly, bagels, and even cold cut sandwiches as long as you have a good means to store them.  
Now obviously, if you're a car camper, you have a lot more options. If you're going to be doing basic camping out of the car, you should always make sure that you take the most advantage of this.  But, if you're not going to, you should consider making foods that can be made without a campfire.
Another big part of campfires and hiking is that some places don't want you to have a fire in certain areas. This is obvious because there might be trees around and you could start a forest fire.  If you can't, you need to find alternatives, so that you don't have to pay a huge fine.
Watch for Water
Water also plays a factor in this.  If you need water, and you don't have water, you won't be able to cook it. Plus, if you're choosing whether to drink water or use water for cooking in the event of an emergency situation, I can assure you that you're going to choose using that water for an emergency situation, which then leaves you the inability to cook it.  If you have no way to cook this, it's better to just not bring it, and if you're going hiking in a place where water may not be available, save the backpack room for water rather than other foods.
Don't Sacrifice Taste Thought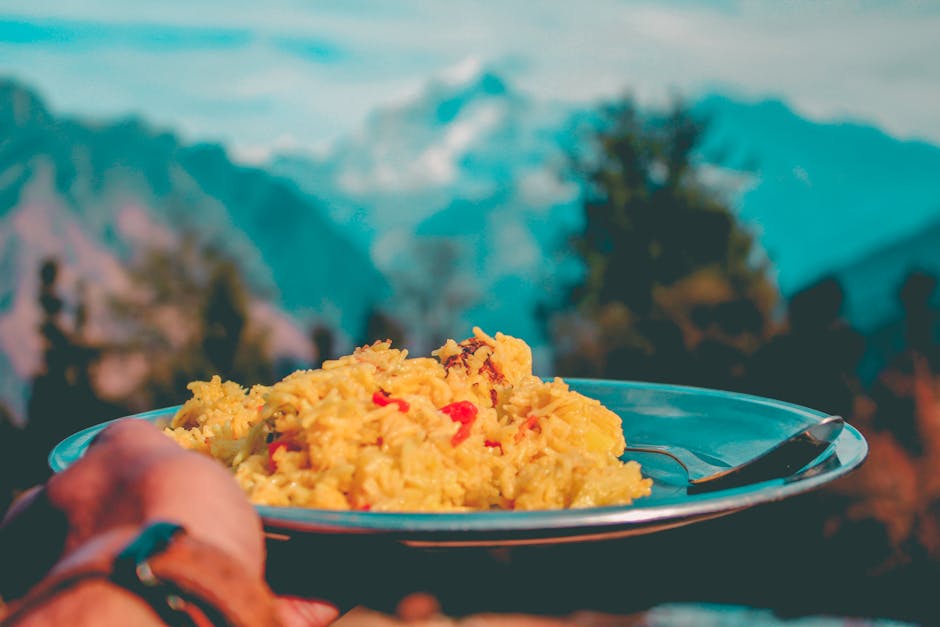 Yes, you can create some yummy foods that are good for camping. The best thing to do is to choose something that isn't experimental, but instead, create foods you will actually eat. The reality of camping is simple: you're going to be eating foods to help push nutrients into your body, and if there is an emergency situation, now isn't the time to try something you've never made before. That isn't to say, if you normally don't have camping foods, forsake this, but instead, you want to choose food that you can eat fast, and foods that you'll be able to have in the event that your energy goes down.  If needed, put some comfort foods, drinks, and other goodies if you feel that sudden urge for certain types of food. Even just throwing flavor packets in there will help, and if you want a flavorful beverage, this is a good one to have.
Don't Try dieting when Choosing Camping Foods
The one thing that you should never consider when choosing camping foods, is trying to go on a diet while camping.  As said earlier, you're using about 438 calories just in one hour of hiking, and if you're bigger than 160 pounds, you're using so much more. What that means if, if you're limiting your calories due to a diet, and also hiking excessively while camping, you're going to be fatigued, energy-deprived, and miserable.  You should pack snacks that are nutrient-dense, and don't try to go for those "fad diets" during your hike. Instead, consider having proteins and complex carbs, and make sure that those are integrated into your diet as well.
Weather matters
Weather is a big part of choosing foods, and if you're going to be going out during a time of the year where it might involve bad or inclement weather, it's important that you pack foods that fit your needs, and for those weather conditions that change. For example, in the winter you should make sure that if you have food that tends to freeze, keep it near your body.  During the rainy season, you want to consider foods that are quick to prepare, and simple to eat, and that doesn't require excessive cooking times. Snacks are also integral during this time of the year. During the summer, keep any food that's heavy, or anything that will melt easily, such as chocolate, out of your backpack, and plan your trip accordingly.
Consider your Ingredients.
You want to make sure that you consider the ingredients that you're taking. This is especially important if you're going to be out in the woods for a long time, and you could help maximize the food that you bring. For example, if you use powdered milk to create oatmeal, you can use this for say, cereal and other types of food. Carrots that aren't in packs of foil and not cooked, you can use it as a snack the next day. For chocolate, you can even make chocolate pancakes if you have enough time to cook them over the campfire.  If you do take the time to learn about the type of ingredients that you can bring with you, it can ultimately make a huge difference.
Don't bring foods that Need Refrigeration
If you're going hiking for a small amount of time, chances are this one doesn't apply as much, especially if you have a set campground and a generator. But, if you're going backpacking, refrigeration is something you should definitely consider.  Do you really want to lug a cooler around while you hike? Chances are, that's a resounding no. if you're bringing a cooler to a campground, you may do this, but remember you need enough ice for this, and often, you may not have a place to purchase ice from, so this is actually going to make your trip a lot more stressful if you don't plan ahead.  Meat, for example, needs refrigeration unless prepared in a specific way, such as dehydrated meats, so you probably won't be taking a ton of those unless you are refrigerating them.
On average, most fresh foods last about a day or so with no refrigeration. So spinach will go bad after a couple days without it.  But, if you want a food that lasts forever, think about carrots. they're good for the eyes, they also last a long time. You should also keep in mind that if the weather is colder, foods will stay edible for longer. So even though in the winter you need to spend more time preparing the food, you probably wont' have to worry as much about perishable foods, since they are essentially getting natural refrigeration, and if you need to keep a food cold, pack it in snow or close to the ground so that the coldness of it ca transfer to there.  The downside to winter, is that you will need more food, will have to prevent foods from freezing, and it will take longer to cook, but the benefit is often that you will have food for much longer.
Finally, if you are camping, always bring an extra cooler for both foods and beverages so that you're not trying to let the air out each time, and only open that one when it's time to eat.
Time considerations
When it comes to cooking in the woods, never try to prepare meals for too long. The truth about that is that it will take time, and if you're hungry you won't want to spend a lot of time making food. Preparing foods and meals beforehand, and actually having a plan, especially if you're backpacking can make a huge difference with this.  If you have dinner after a long day, sometimes making some food at breakfast to reheat when you're hiking can save a lot of time, and a lot of energy. If you're worried about what to eat, always focus on simplicity. You can use oatmeal, instant cereals, instant coffee and pancakes, fruit, and granola. You can carry small amounts of this yourself, and make sure you have it properly rationed off in order to ensure the proper results from this.
If you are hiking a lot at a pace that you feel is quite quick, you should always try to snack throughout the entirety of the day instead of wasting time putting together multiple meals.  If you can, try to make sure that you pack a variety of foods. Don't just pack one specific thing to snack on, but try to keep them different and interesting. If you're eating the same thing every single day, it's going to get incredibly boring, and you should always make sure that you're not trying to force yourself to eat the same stuff every day because it's tiring.  
You can even make coffee while you camp, which is utterly amazing!
If you're worried about the time, always make sure to consider that, and you should definitely work on this.  You can get some awesome camping foods and ideas online. You can figure out what food you'd like to take, and anything that would be good for you to keep in your arsenal of packing supplies that you need. Having some fire safety course melbourne wouldn't hurt either, as there are many great uses for it, and it can help you quite a bit.